OUR KIWI STUDIO
(MAX 3 PEOPLE)
In a Kiwi studio you will find one queen-sized bed and 1 single bed, both fully made up with our lovely crisp sheets and an electric blanket. In the cupboard you will find hanging space, an iron, ironing board and hairdryer. The room has a flat-screen TV, table and chairs and a heater.
Our Kiwi studio has a kitchenette (no sink) with tea and coffee making facilities and include a toaster, kettle, microwave, refrigerator, crockery and cutlery. Enjoy a complimentary cup of tea or coffee.
The Kiwi studio bathroom has a shower and includes towels and toiletries.
Crisp sheets, very comfy beds. Make your own breakfast of tea and toast.
Our Kiwi studio is, like the bird, pleasantly simple and unpretentious.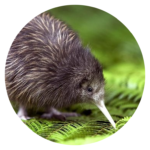 Did you know? The Kiwi bird is the national bird of New Zealand and this is the only place in the world you'll find them, outside of zoos. Kiwis have very long beaks. The beaks have nostrils at the tip, which help the birds find food. The kiwis eat worms, spiders and other bugs. Kiwis have wings, but they are so small that the birds can't fly.
Don't look further. Stay with us!
Check to see if we have a unit available for you.