FANTAIL FAMILY 2 BEDROOM UNITS
(MAX 7 PEOPLE)
Our two-bedroom Fantail family units are great for self-catering guests such as families or school teams. The unit has 1 queen-sized bed in one bedroom with its own flat-screen TV. In the other bedroom there are 3 single beds. There are a further 2 single beds in the lounge area (sleeps 7). All our beds are made up with fresh, crisp, clean sheets and an electric blanket. In the cupboard there is hanging space, hair dryer and an iron and ironing board. The lounge has another flat-screen TV, table and chairs and a heater. The bathroom has a shower and separate toilet. Towels and toiletries are supplied.
This unit has a fully equipped kitchen with an oven, stove, toaster, kettle, microwave, refrigerator, crockery and cutlery. Please enjoy a complimentary cup of tea or coffee.
Our Fantail 2 Family Units Includes
Shower

Vanity Basin & Mirror
Take a look around a Fantail 2 Unit
Click and drag to look around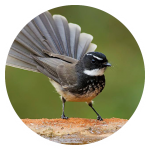 Did you know? When the mother Fantail leaves the nest to start building a new nest for her next clutch of eggs, she leaves the father to finish raising the young in the old nest. Baby fantails need to be fed every 10 minutes, or about 100 times a day!
Don't look further. Stay with us!
Check to see if we have a unit available for you.